ANN ARBOR, MI June 25 2015 – Corp! Magazine selected Quantum Compliance as one of its 2015 Corp! Michigan's Economic Bright Spots award winners. The award ceremony was held at the VistaTech Center in Livonia, MI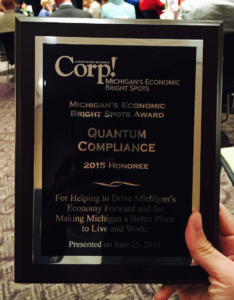 where industry leaders gathered to accept their awards and grow their professional networks. 82 companies were selected for this award based on their abilities for "innovation, resilience, and reinvention in the face of economic turmoil."
"Today we celebrated the companies and individuals that received this year's Michigan's Economic Bright Spots awards for showing a passion for not only their businesses, but for improving the economy throughout the state of Michigan, as well," said Jennifer Kluge, Publisher of Corp! Magazine.
Recognizing the importance of small and medium sized businesses to the economy, Quantum Compliance is poised to launch a new software product specifically for smaller organizations. Often subjected to the same regulations as large corporations, Quantum Compliance understands that small and medium size companies may not have the same resources available to access the same tools.
"Small businesses are essentially the backbone of our economy. As a small business ourselves, we understand the challenges faced within our sector. Our goal for 2015 is to launch a software that is a big-company product at a small-company price," said CEO Jimmy Hsiao.
With more than 200 clients added in the past year, Quantum Compliance has already experienced tremendous growth and is well positioned for future success.
For the full list Corp! Michigan's Economic Bright Spots 2015 award winners, visit http://www.corpmagazine.com/executives-entrepreneurs/economic-bright-spots-push-michigan-economy-forward/