Safety Inspection & Audit Software
Compliance with regulatory safety standards not only helps companies protect their employees from hazardous situations in the work place, but also protects employers from hefty regulatory fines for non-compliance.
Whether companies are conducting their own workplace safety inspection or OSHA is conducting an audit, a centralized system to organize and track records is imperative to a healthy safety culture. Quantum's Inspection and Audit module provides a platform to organize and implement the results of an inspection or audit.
To maintain an effective safety program, companies should conduct regular scheduled internal inspections. Conducting internal inspections allows safety managers to identify and eliminate safety hazards. Internal inspections also prepare companies for safety audits, should OSHA or other regulatory authorities arrive on-site to conduct one.
Using hard copy documents to track records is inefficient, as paper copies can be easily misplaced or worn over time. Misplacing inspection and audit results can have detrimental effects on a company such as violations to regulatory standards, resulting in heavy fines of up to $70,000/violation.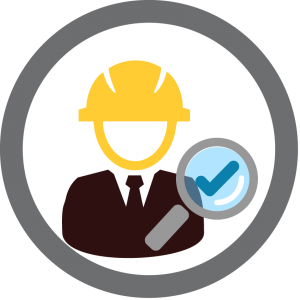 When an inspection or audit is conducted, it is necessary to document relevant details used for further investigation or to prepare for follow up actions. Quantum's Inspection and Audit Software allows users to:
Record inspection and audit results
Track inspections and corrective actions
Schedule activities and assign tasks
Complete customized inspection questions and forms
Communicate actions and automate work processes
The benefits of Quantum's safety software lie in the efficiency and automation of the program. With the details of an inspection or audit loaded into the system, Quantum's Inspection and Audit Module allows users to:
Automate incident classification using predefined acceptance ranges. Acceptance ranges are predefined in the inspection questions and immediately updates safety managers when an incident is classified.
Organize action points through My Activity Center to better track assigned tasks with job descriptions, levels of priority, deadlines, and required resources.
Accelerate reporting using Quantum's integrated Dashboard. Showcase data in an easy-to-understand way for decision makers to identify any historic safety culture trends within the company.
| INSPECTION | AUDIT |
| --- | --- |
| Internal or External (OSHA, EPA, DOT) | Internal or External (OSHA, EPA, DOT) |
| Frequent | Less Frequent |
| Looks at the physical conditions and work practices in a workplace | Measures and collects information about the reliability and effectiveness of the safety inspections, programs, training, plans and systems within a workplace |
| Identifies hazards so they can be eliminated or minimized | Determines whether the safety inspection is returning accurate, reliable, and complete results |
| Corrective action(s) are scheduled | May result in fines for non-compliance |