Quantum's web based SDS Management Software provides companies the ability to retrieve information immediately, to revise data as needed, and to search files using keywords. The software can be tailored to suit your company's needs, and saves your employees from time spent digging through files.
Organizations managing paper-based SDSs spend an increasing amount of time accessing, inspecting, and updating SDS information. This time cost has multiplied with the adoption of new OSHA standards which require a whole new set of SDSs in GHS-compliant format.
Quantum's web based SDS Management Software helps organizations:
Load, save and print unlimited SDS's
Retrieve and update information immediately
Search for documents by chemical name, CAS#, manufacturer name, trade name, and more
Use Quantum's Web-Based SDS Management Software to eliminate unnecessary time spent cataloging and searching for paper SDS's.
Global Companies and SDS Management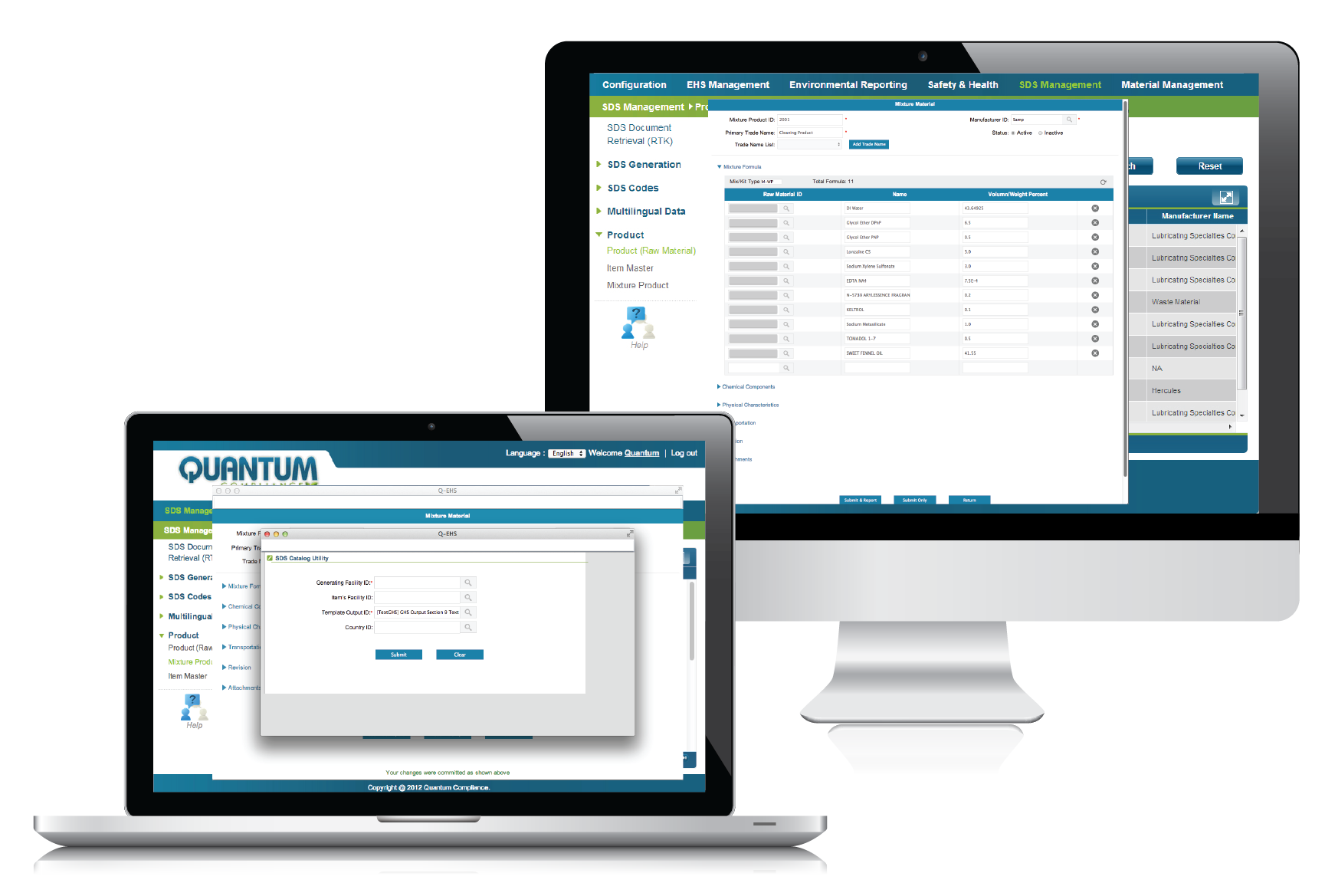 If you're an international company, the change from MSDS to SDS may have been incredibly helpful for you in terms of maintaining consistent standards across borders. Once you have a format that you can use and accept in all of your locations, your business has one less thing to worry about.
But however much it may have already helped, the conversion itself is not the only SDS step you'll need to take in order to standardize your practices from country to country. A safety data sheet is only useful if you can access it! Without proper safety data sheet management services, your conversion process cannot fully be complete.
Having a centralized SDS management system means that anyone within your company can access your own database, so long as they have proper authorization. You can store SDSs in different languages to account for international customers, meaning that you'll be able to get things to the consumer almost instantly instead of having to go through an extended translation process on a per-SDS basis.
Some companies prefer to keep their SDSs strictly in binders, using paper copies and no cohesive digital system. While this might work for an individual plant or lab, it is not a system that can work well on a large scale. If consumers ask for copies of your SDSs, you will then have to either spend time tracking down the file or photocopy/scan your existing paper copy, neither of which are beneficial uses of your time.
To make your daily operations easier in each one of your locations and for the company overall, you should use online SDS management software. An SDS management service may in fact be less expensive than individually applying changes location by location because of the time and effort it will save your staff. This will help you access the chemical safety data you need in each of your individual locations quickly and easily, and any changes that need to be made to your SDSs or GHS labels can be applied uniformly and instantly.
Why Implementing an Effective SDS Management System is Important

By now, companies should have completed their conversions from MSDSs to GHS compliant SDSs. Under GHS format, SDSs now have 16 sections, which can nearly double the number of pages from the previous format. With so many new documents and pages, implementing a cloud-based SDS management system can greatly benefit a company's operations.
Benefits of Cloud-Based SDS Management System
A cloud-based SDS Management system provides companies advantages such as:
Centralization– SDSs can be stored, viewed, and printed from a localized server.
Productivity– Easily search for SDSs needed to save time and headaches
Reduced costs– Increased efficiency reduces operational costs while increased compliance lowers risk of costly fines and potential worker's compensation.
Compliance- Complying to regulatory standards ensures better protection of workers leading to improved company culture and morale.
Implementing a Cloud-Based SDS Management System
Step 1. Understand the challenges faced by current SDS management systems.
Paper-based management– Large quantities of hard copy documents require sufficient resources to manage. Precious time is often used to manually search for necessary SDSs. Once found, additional steps may be necessary to use the SDS, such as copying the master copy.
Spreadsheet based management- Spreadsheets are great for organizational means, but on a large scale can prove to be inefficient, requiring a single designated user to update for accuracy.
Hard copy SDSs are often organized in filing cabinets located in office settings instead of being immediately accessible to employees working in the facility. Employees in need of a SDS would have to stop their current task, travel across the manufacturing facility, and face potentially hazardous situations just to get to where the SDSs are located. This inefficiency puts a heavy cost on companies.
Step 2. Load SDS into Cloud-Based SDS Management System
Once companies have recognized the challenges faced in their SDS Management processes, they may begin loading their SDSs into a cloud-based system. For convenience sake, third party applications often offer to load SDSs for clients into their database at minimal cost.
Step 3. Training
With all SDSs loaded into a centralized server, employees and users will need to be trained to use the system. Training should include contingency plans, should access to the system be unavailable in cases of power outages and technical issues. According to OSHA's HazCom 2012 Directive, it is necessary to provide secondary access points to SDSs such as hard copy documents or CD-ROMs.
Additional Notes
Although a cloud-based SDS management system provides companies with undeniable advantages, a common misconception is that 100% of SDSs used will be immediately available and updated. A continuous effort of the entire team using the system will be necessary to maintain an updated and comprehensive library. Employers can eliminate employee frustration by setting clear expectations during the implementation process.
Download the free infographic: Full Resolution (PDF Version)