Chemical Management Solution
Request Recorded Demo - Q-Hazard Reporting
Get Access to Recorded Demo - Q-Hazard Reporting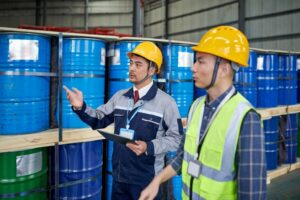 Your Ideal Chemical Management Solution.
Do you produce, store, or use hazardous chemicals? If you do, you may be subject to a variety of safety and environmental regulations.
Quantum has developed a comprehensive chemical management solution to ease those regulatory burdens.
If you'd like to replace your workplace's SDS Binders with a cheaper and more accessible solution, Quantum's SDS Management software provides a digital solution to HAZCOM compliance (and much more).
If you're spending too much time and effort tracking your chemical inventory, take a look at Quantum's solution! Automatically generate inventory lists and reports (such as Tier II or TRI) based on a digital chemical inventory.
Up to date global regulation lists and ingredients database. This tool helps users to increase compliance with regulatory reports of the ingredients.
Tools to evaluate and sign-off on purchasing or using the new chemical products. User-defined authorization forms provide the team with a flexible authorization process.


Quantum's experts will ensure that you are compliant with chemical regulatory requirements.
Comprehensive Chemical Database
Quantum has a robust chemical database and GHS rule sets to generate your SDSs and populate your chemical inventory.
Quantum's Lists-of-Lists module enables users to cross-reference their chemicals against a constantly-updated database of regulatory lists.
Quantum applies a module approach to our products, ensuring that customers only pay for the features they need.
Quantum's cloud-based software can be activated with the flip of a switch, so customers can implement our solutions quickly.
The combination of Quantum's authoring software and meticulous QA process is the key to high quality and accuracy.