What is SDS Management?
SDS Management Software gives you the ability to retrieve information immediately, to revise data as needed, and to search files using keywords. SDS management software can be tailored to suit your company's needs and saves your employees from time spent digging through files.
Do I Need SDS Management Software?
Does your organization commit time and resources to any of the following?
Tracking the location and status of Safety Data Sheets across your facility
Managing updates and revisions to SDS documents
Meeting Hazard Communication requirements set forth under HAZCOM, WHMIS, CLP, or equivalent
Providing clients with up-to-date SDS for your products
If so, upgrading to Quantum's SDS Management Software may save your organization time and money!
What Can Quantum's SDS Management Software Do for Me?
Quantum's SDS Management Software provides the following:
Load, save, and print unlimited SDS
Retrieve and update the information immediately
Search for documents by chemical name, CAS#, manufacturer name, trade name, and more
Scan paper SDS directly into the software
Searchable database of SDS and associated documents
Print SDS and associated documents
Download SDS for offline reference
Scan paper SDS directly into the software
Access to software on unlimited number of devices
No limit on number of users
Responsive design with mobile compatibility
Web-based software: access from any device
Organize SDS by location: replace old binders
Generate and print GHS-compliant labels
Automatic reminders when SDS are due for an update
Generate custom reports based on SDS data (including all sections of SDS)
Track regulatory status of all chemical ingredients by integrating with Quantum's List of Lists add-on
Combine with Quantum's Chemical Inventory module to generate SARA Tier I-II reports
Upgrade with Quantum's Chemical Authorization module to digitally manage the chemical authorization process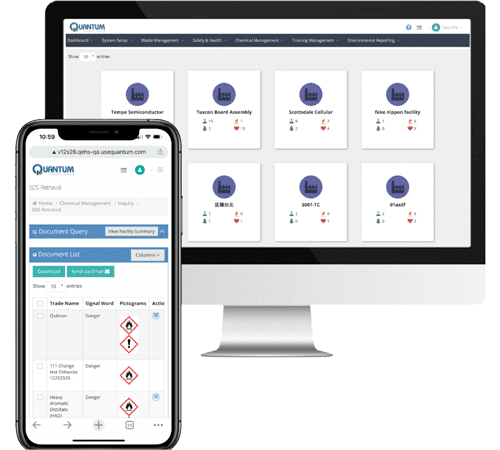 Why Implementing an Effective SDS Management System is Important


By now, companies should have completed their conversions from MSDSs to GHS compliant SDSs. Under GHS format, SDSs now have 16 sections, which can nearly double the number of pages from the previous format. With so many new documents and pages, implementing a cloud-based SDS management system can greatly benefit a company's operations.
Benefits of Cloud-Based SDS Management System
A cloud-based SDS Management system provides companies advantages such as:
Centralization– SDSs can be stored, viewed, and printed from a localized server.
Productivity– Easily search for SDSs needed to save time and headaches
Reduced costs– Increased efficiency reduces operational costs while increased compliance lowers risk of costly fines and potential worker's compensation.
Compliance- Complying to regulatory standards ensures better protection of workers leading to improved company culture and morale.
Implementing a Cloud-Based SDS Management System
Step 1. Understand the challenges faced by current SDS management systems.
Paper-based management– Large quantities of hard copy documents require sufficient resources to manage. Precious time is often used to manually search for necessary SDSs. Once found, additional steps may be necessary to use the SDS, such as copying the master copy.
Spreadsheet based management- Spreadsheets are great for organizational means, but on a large scale can prove to be inefficient, requiring a single designated user to update for accuracy.
Hard copy SDSs are often organized in filing cabinets located in office settings instead of being immediately accessible to employees working in the facility. Employees in need of a SDS would have to stop their current task, travel across the manufacturing facility, and face potentially hazardous situations just to get to where the SDSs are located. This inefficiency puts a heavy cost on companies.
Step 2. Load SDS into Cloud-Based SDS Management System
Once companies have recognized the challenges faced in their SDS Management processes, they may begin loading their SDSs into a cloud-based system. For convenience sake, third party applications often offer to load SDSs for clients into their database at minimal cost.
Step 3. Training
With all SDSs loaded into a centralized server, employees and users will need to be trained to use the system. Training should include contingency plans, should access to the system be unavailable in cases of power outages and technical issues. According to OSHA's HazCom 2012 Directive, it is necessary to provide secondary access points to SDSs such as hard copy documents or CD-ROMs.
Additional Notes
Although a cloud-based SDS management system provides companies with undeniable advantages, a common misconception is that 100% of SDSs used will be immediately available and updated. A continuous effort of the entire team using the system will be necessary to maintain an updated and comprehensive library. Employers can eliminate employee frustration by setting clear expectations during the implementation process.
Download the free infographic: Full Resolution (PDF Version)