Uniform Hazard Waste Manifest Generation Software
The US government has created specific sets of paperwork that must be filled out before any hazardous materials can be transported for disposal. With Quantum Compliance's waste manifest software, this documentation is easy because you enter data only once.
The software's intuitive organization is completely online, eliminating the need for physical storage space. Users can archive an unlimited number of forms for easy future retrieval. Every step of the process comes with an easy-to-use Help feature, giving detailed instructions for all actions. 
With Quantum's Waste Manifest web application, transportation documents are better organized and more accurate. Access and store an unlimited number of forms from any device – computer, tablet, or even smartphone.

Why Quantum?
Backed by three decades of experience, we developed this software with the end-user in mind. Compliant with Uniform Manifest, this application provides a user-friendly environment not only for creating documents but for editing them, storing information along the way for easy retrieval. Key Benefits & Features include:
Standardized forms in DOT-compliant format

Waste Labeling Support

Intuitive storage system & Data auto fill function

Electronic signature

Excellent customer support: Video Tutorials & Free Software Updates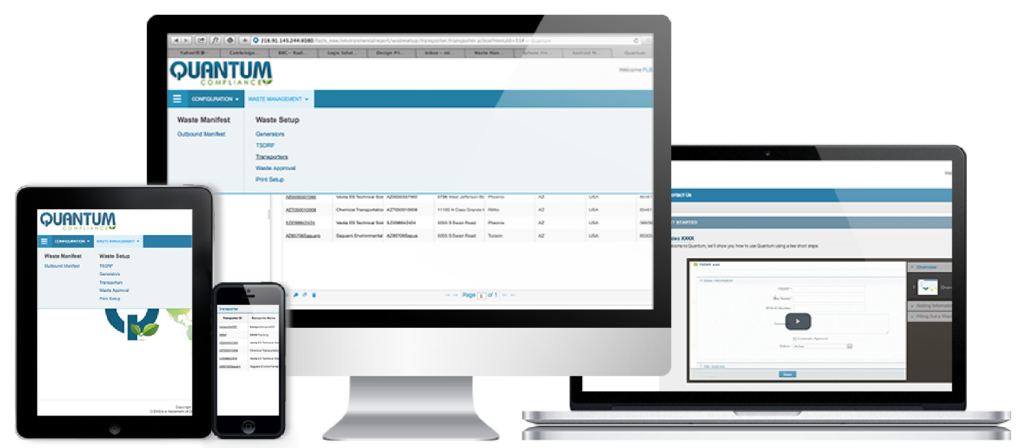 Great Features & Benefits
More System Features:
Compatible with any operating system or browser

Compliant with DOT Uniform Manifest standards

Built-in DOT hazardous materials table

Includes EPA and state waste codes, and Emergency Response Guidebook (ERG)

User-friendly interface to edit and update documents

Unlimited documents storage in a robust relational database and corresponding package markings/forms in the cloud

Export forms and continuation sheets (if any) to a PDF format on the cloud or a hard drive
Search and filter function with comprehensive search criteria

Help tab at every step for detailed instructions

Centralized data repository to organize information about your generators, transporters, TSDFs, and manifests

Print or export your contacts

Upload additional documents to your manifest or contacts

Snap-out forms and Pin-feed forms printing options (including continuation forms)

"Add Copy" feature that copies key fields and allows for editing