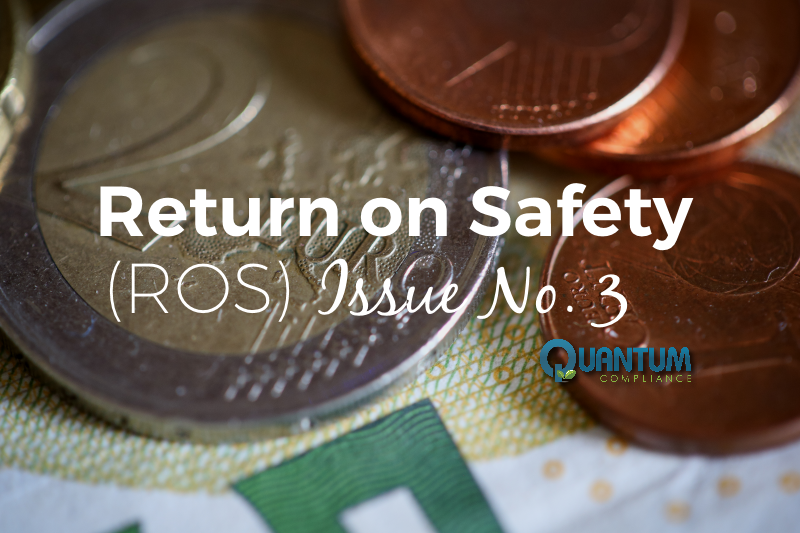 Last week's ROS Issue No. 2 – Speak Their Language, discussed the difference in perspectives between safety professionals and business executives. When advocating for safety, advocators must present their case from a standpoint that brings value to the business. The more visible the value, the more buy-in from decision makers.
F.A Manuele demonstrated the similarities between quality and safety by using a piece of quality management literature and inserted safety for quality.
"When safety (quality) is seamlessly integrated into the way an organization operates on a daily basis, safety (quality) becomes not a separate activity from committees and teams, but the way every employee performs his or her job."
The synonymous nature between safety and business is the driving force behind this article series. ROS or Return on Safety is a play on the common business term, ROI or Return on Investment.
So what is the ROS? How do you calculate your Return on Safety? From a monetary standpoint, three factors will help you determine your safety return. The amount invested, the payback period, and the costs saved by implementing the safety program. Decision makers will need to know
How much money they need to invest,
How long it will take to get that money back, and
How the company will benefit from the investment
Consider the following example.
A safety professional is advocating for her company of 1000 employees to invest in safety software that costs $30,000. From her calculations of regulatory fines, she estimates that they could potentially prevent $90,000 in fines per year for at least 3 years.
$90,000 x 3 years return / $30,000 investment = ROS of 9x (or 900%)
At $30/employee, a return on safety of 9x the initial investment is a no-brainer!