And how do they provide unique value?
Manufacturing What's Special
Chemical manufacturing creates products by transforming organic and inorganic raw materials through chemical processes. Chemicals are generally classified into two groups: commodity chemicals and specialty chemicals.
Commodity chemical manufacturers produce large quantities of basic and relatively inexpensive compounds in large manufacturing plants, often built specifically to make one chemical. These plants often run continuously, typically shutting down only a few weeks a year for maintenance. The top five commodity chemical producers are Dow, LyondellBasell, Exon Mobil Chemical, DuPont, and Air Products.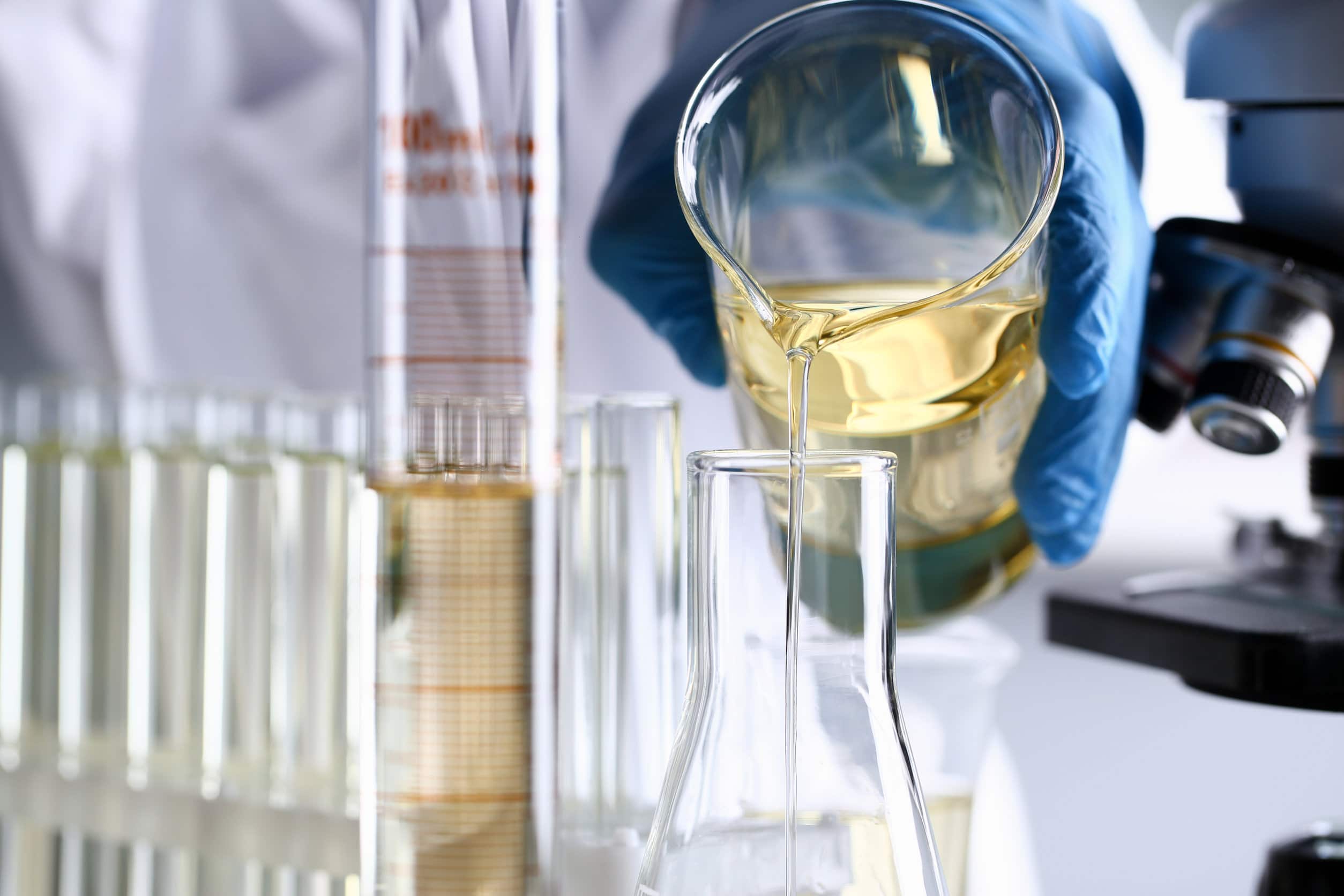 Specialty-batch or performance chemical manufacturers produce smaller quantities of chemicals on an "as needed" basis.
These specialty chemicals are materials produced and then used on the basis of their specific performance or function. They are unique molecules or mixtures of molecules that are called formulations.1
The importance of specialty chemicals lies in the fact that they are applied in a broad array of applications with specific performance requirements that touch almost every industry sector. Areas of impact include food processing, construction, agriculture, adhesives, transportation, lubricants, paints, cleaning materials, cosmetics, fragrances, and industrial gases.
To generate these products takes deep expertise in chemical properties, quality assured processes, specific technology and machinery, and ingenuity to meet the very unique demands of each product and order.
Industry Snapshot
There are approximately 13,500 chemical manufacturing facilities in the United States owned by more than 9,000 companies. Facilities are located all over the country, with many companies in Texas, Ohio, New Jersey, Illinois, Pennsylvania, Louisiana, and the Carolinas. The chemical industry produced shipments valued at about $596 billion in 2022.
The specialty-batch chemical sector is composed primarily of small companies, with more than 89 percent employing 500 or fewer employees. Top ten specialty companies are: Lubrizol Corporation, Huntsman, Ashland, Chemtura, Albemarle, Cabot, W. R. Grace, Ferro Corporation, Cytec Industries, and Emery Oleochemicals.2
Often with specialty chemicals there is only one or a limited number of suppliers producing a given product. In contrast to the production of commodity chemicals, batch manufacturing has to be very agile because the raw materials, processes, operating conditions, and equipment may need to be changed based on each job to effectively meet customer specifications.
Three Types of Specialty Producers
Batch or specialty chemical producers are further divided into three categories: Toll, Contract and Complete or Proprietary Manufacturers.3
Toll manufacturers charge a "toll" or fee for processing a customer's ingredients to their formula specifications and creating a chemical product. In this case the customer provides the ingredients.

Contract manufacturers provide the ingredients and then manufacture according to the request. Both contract and toll manufacturing are forms of outsourcing chemical production intended to reduce cost and ensure quality production based on specific expertise.

Complete Manufacturers produce their own branded specialty products supplying the materials, labor, and equipment to manufacture the product. Often, they also handle marketing and shipping.
These performance chemical manufacturers and related distributors and suppliers connect and support one another as part of a trade organization called SOCMA.
Top US Commodity Chemical Companies by Revenue
| Rank | Company Name | City | State | Business Activity | Year founded | Est. Annual Revenue (2020) |
| --- | --- | --- | --- | --- | --- | --- |
| 1 | Dow | Midland | MI | Silicone/diversified | 1897 | $43 billion |
| 2 | LyondellBasell | Houston | TX | Petrochemicals | 2007 | $23 billion |
| 3 | Exxon Mobil Chemical | Irving | TX | Additives | 1870 | $22.5 billion |
| 4 | Dupont | Wilmington | DE | Resins | 1902 | $22 billion |
| 5 | Air Products | Allentown | PA | Industrial gas | 1940 | $9 billion |
| 6 | Mosaic | Plymouth | MN | Fertilizer | 1892 | $8.6 billion |
| 7 | Eastman | Kingsport | TN | Additives | 1920 | $8.5 billion |
| 8 | Chevron Phillips Chemical | The Woodlands | TX | Olefins | 2000 | $8.4 billion |
| 9 | Westlake | Houston | TX | Styrene | 1986 | $8 billion |
| 10 | Corteva Agriscience | Wilmington | DE | Agrochemicals | 2019 | $6.8 billion |
| 11 | Ecolab | St Paul | MN | Water treatment | 1923 | $6.5 billion |
Top US Specialty Chemical Companies by Revenue
| Rank | Company Name | City | State | Business Activity | Year founded | Est. Annual Revenue (2020) |
| --- | --- | --- | --- | --- | --- | --- |
| 1 | Lubrizol Corporation | Wickliffe | OH | Additives for fuel & fluids | 1928 | $6.5 billion |
| 2 | Huntsman | The Woodlands | TX | Polyurethanes & adhesives | 1970 | $6 billion |
| 3 | Ashland | Wilmington | DL | Solvents & compositess | 1924 | $4.9 billion |
| 4 | Cabot | Boston | MA | Activated carbon, elastomrers | 1882 | $3.2 billion |
| 5 | Albermarle | Charlotte | NC | Bromine, Lithium salts | 1994 | $3.1 billion |
| 6 | Cytec Industries (acquired Solvay) | Woodland Park | NJ | Resins and plastics | 1907 | $1.9 billion |
| 7 | W.R. Grace | Columbia | MD | Catalysts & silica-based | 1854 | $1.7 billion |
| 8 | Chemtura (acquired by Lanexess) | Philadelphia | PA | Specialty for auto, energy | 2005 | $1.6 billion |
| 9 | Ferro Corp | Mayfield | OH | Colors,powders, porcelain | 1919 | $1 billion |
| 10 | Emery Oleochemicals | Cinncinnati | OH | Chemicals from atural oils & fats | 1872 | $.5 billion |
SOCMA…Advancing the Specialty Chemical Industry
SOCMA is the Society of Chemical Manufacturers & Affiliates. Based in the United States, this trade association was founded in 1921 and is dedicated to providing the latest industry knowledge, peer networking, and customized training and business growth resources.
Its mission is to:
Support and foster the growth of the specialty chemical industry by delivering legislative and regulatory advocacy, promoting the highest levels of safety, and strengthening business intelligence and manufacturing operations.4
Quantum had the opportunity to attend SOCMA's national conference, the Specialty and Custom Chemicals Show this year in Fort Worth, Texas. The sessions featured industry leaders who addressed supply chain challenges, specialty processes, and safety and sustainability best practices.  Over 165 exhibitors shared their products and insights to add value to these manufacturers.
Attending the show allowed Quantum to network with companies in the industry and see again the critical need to support specialty manufacturers with chemical management software solutions.
Keys to Specialty Success
Specialty chemical manufacturers must be able to turn around batches quickly and accurately, while handling hundreds of various formulations. But with each new batch there must be a new Safety Data Sheet to accompany. But an SDS based on a generic sheet that is "close to" this batch but not exactly right, will not do. It must exactly reflect this batch in order to achieve GHS compliance.
Quantum Solutions and Specialties
With 30 years of EHS experience, Quantum Compliance is providing robust solutions for specialty chemical manufacturers.  Our Chemical Management Suite provides proven tools for SDS authoring, SDS services, Chemical Management, SDS verification, and GHS training.
With this Suite specialty manufacturers can meet OSHA/WHMIS Hazard Communication Requirements in the workplace while efficiently tracking chemical inventory, hazards, usage, and labeling – at every step in the chemical lifecycle. And the Quantum Suite generates dashboard reports that offers specialty chemical manufacturers business insight to inform decision-making.
The impact is significant. Instead of having to sift through the complex 700-page GHS compliance standards document, Quantum's software does it for these manufacturers automatically to create a streamlined workflow delivering greater accuracy, reduced cost, and improved productivity. Firms that use Quantum are saying goodbye to spending 3 hours making safety data sheets by hand. Instead, they are creating customized and accurate sheets in as little as 15 minutes with Quantum's software.
And the Q-Chem module allows specialty manufacturers to strengthen chemical management by providing inventory control on a whole new level. Documents are searchable by chemical name, manufacturer name, trade name, and more. This information now accessible at their fingertips can make for a safer and more profitable environment because of risk reduction.
Quantum's cloud-based technology is user friendly, easily accessible, and creates centralization to  enable users from locations across the globe to access important documents and information in 38 different languages. Here's where Quantum meets specialty manufacturers right in stride with the responsiveness they need. And because this software can also be integrated with their existing ERP systems, greater transparency is achieved.
It is the volume and accuracy of SDS that specialty manufacturers need, that makes Quantum Compliance software a preferred solution ready at hand.
Applying Smart Software
We'd like the opportunity to show you how our smart software can make a real difference in your productivity. To find out more, please be in touch with Steve Russie, Quantum USA's Director of Product Management, at steven.russie@usequantum.com.
We're committed to seeing you succeed.