2020 was a year of unprecedented circumstance.
The COVID-19 pandemic has swept across the world and left uncertainty, tragedy, and loss in its wake. At Quantum Compliance, we share in the agony and hardship and our hearts go out to all who have suffered from very real economic and emotional damage wrought by the virus.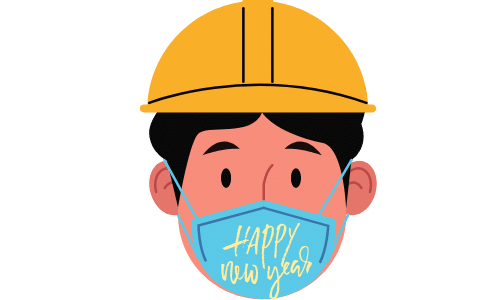 The global pandemic has resulted in an increased need for innovative safety management and at Quantum Compliance, we have remained true to our mission of making the world a healthier, safer place to live and work. Our team transitioned to remote working early in the year to protect the safety of both employees and the community and from our homes, we have continued to provide our clients with innovative solutions to improve safety practices and standards.
We've made great strides this year in modernizing safety tracking, reporting, and management with the launch of our new Safety Observation Software. This new module utilizes smartphone technology to make reporting hazards easier and increases productivity by eliminating paperwork from the equation. With this revolutionary software, safety managers can create a customized, comprehensive approach to safety in the workplace and allows them to quickly and effectively address safety reports.
We've also spent time upgrading some of our other modules including Workplace Inspection, Risk Assessment, Incident Management, and EHS Training Management. All modules are available as enterprise installation or on SaaS Platform.
Among our other accomplishments this year is our revamped SDS (Safety Data Sheet) Authoring Software. The software has been updated to include compliance with new EU CLP regulations and now has integrated SDS output compliant with the regulations of Korea, Japan, Thailand, and Vietnam.
In addition to the improved SDS Authoring Software, our talented team has expanded our SaaS platform by adding a SDS and Chemical Management module. The new module features expanded functionality to allow for authoring and printing GHS Workplace Labeling, maximizing productivity and organization.
Speaking of modules, we've also enhanced the Manifest and Labeling module by adding 6 new label options for labels from LabelMaster, J.J. Keller and GC Labels. The module has also received upgraded printing capabilities that allow users to include the tracking number on non-hazardous labels–a highly requested feature among our clients.
Even though travel has been limited by the pandemic, Quantum has expanded its market this year to the semiconductor, airline, petroleum, specialty chemical industries in Asia Pacific. Our continued growth in Asia Pacific shows that companies are taking sustainability and EH&S seriously and Quantum Compliance is proud to be a part of the solution.
As 2020 comes to a close, we look to the future and hope for an end to COVID-19. In the meantime, our passionate team of environmental engineers and computer scientists will continue to make our EH&S software more accessible, easier to use, and more integrated into daily business practices. Our passion for safety is a driving force in the work we do and we are looking forward to continuing our pursuit of safety for all in the upcoming year.
From all of us here at Quantum Compliance, Happy New Year!
Jimmy Hsiao, CEO, Quantum Compliance