Introducing EHS Systems to Face Safety Challenges
EVA Air was established in 1989 and officially took flight in 1991. It now accommodates over 60 cities across 4 continents. In 2013, EVA Air joined the Star Alliance, which is the world's largest airline alliance, to provide more extensive and convenient services.
EVA Air's aviation safety record has always been a something to be proud of. Since the International Air Transport Association (IATA) introduced the IOSA airline operational safety certification system in 2003, EVA Air has maintained a flawless "zero defects" record and continues to pass the certification check every two years. The airline's excellent aviation safety has also been recognized at an international scale in numerous evaluations.
With the expansion of flight services, EVA Air faced expanded challenges in environmental, health, and safety (EHS) management. The airline discovered that existing manual, paper-based operations were not only time and labor-intensive, but also made data preservation and utilization difficult to track in terms of statistical analysis and report generation. To ensure the health and safety of employees and to prepare for greater social responsibilities, EVA Air decided to introduce an EHS management system.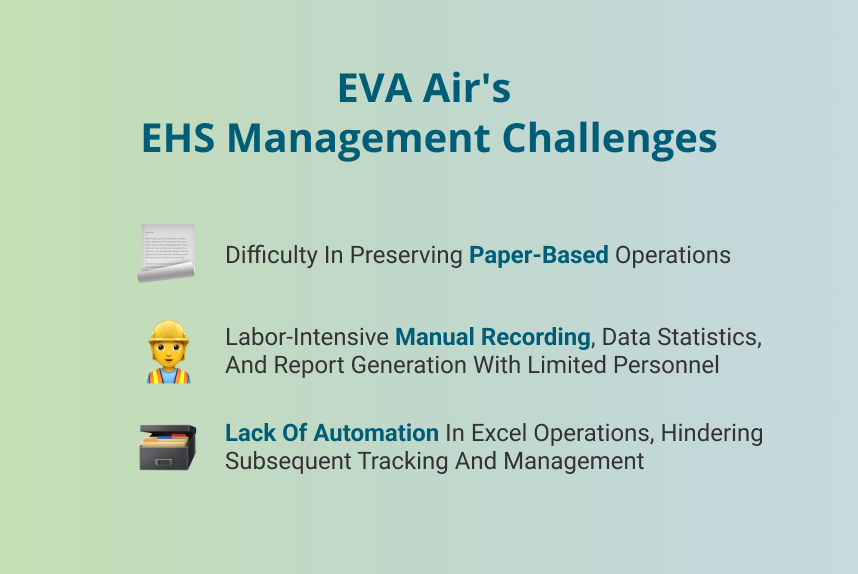 EVA Air initially considered self-developing this system, but considering the specialized nature of EHS, it opted to select a solution from professional vendors that met the following four major requirements:
Must comply with EVA Air's current operational and approval processes.
Incident management, risk assessment, and training functions must be provided on a unified integrated platform for employee usage.
Must be in line with EVA Air's organizational structure and regulations to facilitate cross-site management.
Data must be stored in accordance with EVA Air's information security regulations.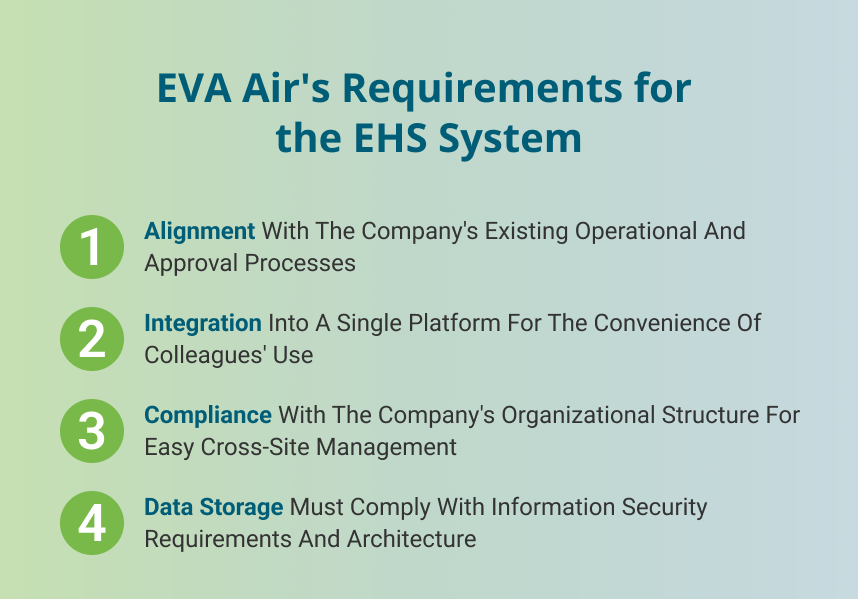 Quantum Compliance's System Gains EVA Air's Recognition with Its Technology and Experience
After multiple evaluations, EVA Air decided to adopt Quantum Compliance's EHS management system. Quantum Compliance's system was favorable for many reasons; it can rapidly report occupational safety-related incidents in compliance with regulations, it can grasp risk dynamics more promptly than traditional paper-based operations, and it employs system dashboards for real-time analysis, which thereby reduces and mitigates occupational hazard risks. Further, Quantum Compliance's system can schedule education and training courses to efficiently enhance safety awareness.
Meeting Regulations with Real-time Incident Reporting
A key reason Quantum Compliance was chosen was due to its technology and experience. Quantum Compliance's EHS management system utilizes a shared database, making the extension of functional modules highly flexible. These modules are interconnected, allowing for fine-tuning based on practical EHS management work. Additionally, real-time visual charts and graphs illustrate the reports to make management decision-making more convenient. Finally, Quantum Compliance's professional team has over 30 years of experience in the EHS field.
After the official introduction, the specific benefits of EVA Air's utilizing Quantum Compliance's EHS management became evident. In the past, incident reporting through email lacked real-time and complete information provision. With their new system, incidents can be reported through system emails or instant messages at the first moment they occur, notifying relevant units such as the Occupational Safety Window, Occupational Safety Office, and medical rooms. With standardized report forms through the system, those filling out the forms can provide comprehensive incident information.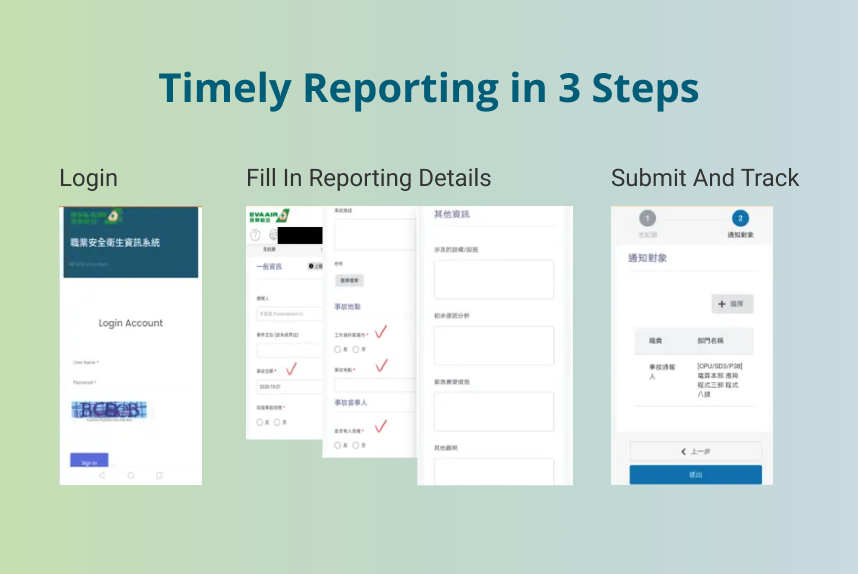 Prompt Grasping of Risk Dynamics
In addition to significantly accelerating the reporting process, the risk assessment work has also become much easier. The past method of using extensive manpower has now switched to a smooth process that enables quick configuration of 740 operations for 69 departments and assesses 3,089 hazardous scenarios.
Through the system dashboard, the number of incidents for each hazard type in the current year can be referenced, confirming existing control measures and risk levels. This allows various departments to identify hazards, assess risk, record and track incidents, and inquire about archives. Monthly routine occupational accident statistics are now faster and more accurate, which in result has effectively reduced the occupational accident occurrence rate.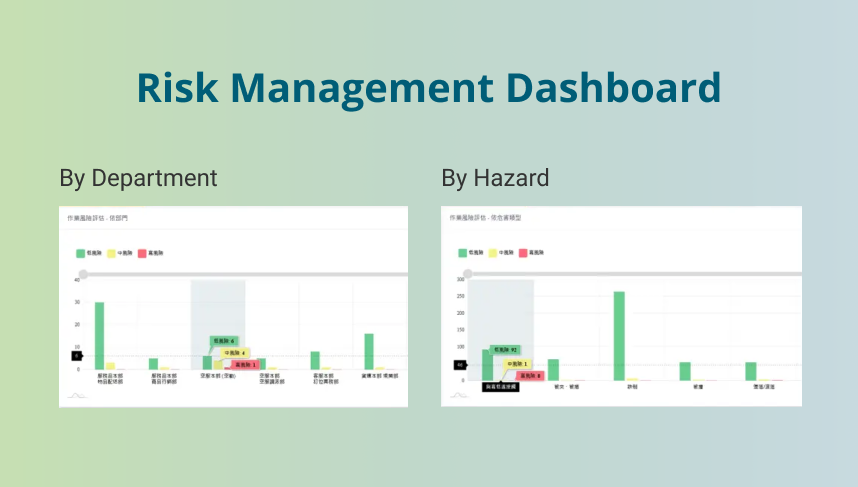 Enhancing the Efficiency of Education and Training
Education and training are the foundation of safety. Quantum Compliance's system can schedule courses in compliance with regulations and company needs, facilitating the tracking of course progress and employee training status. It also manages training-related certifications and licenses, automatically sending reminders when certifications or licenses are about to expire, saving a significant amount of manpower. In terms of integration with the Human Resources Department, it supports the import of training records into the HR training system, and the system can export course records in Excel files, saving considerable operational time
Reducing Occupational Accidents and Enhancing Safety
In the past, the reliance on manual work made integration and statistical management time-consuming and challenging for subsequent tracking and management. Now, online disaster investigation combined with risk assessment data allows understanding of disaster causes, and promptly proposes effective improvement measures to prevent similar disasters from recurring. The PDCA (Plan-Do-Check-Act) cycle is used for continuous process optimization. In addition, the dashboard function effectively tracks and compiles occupational accident information.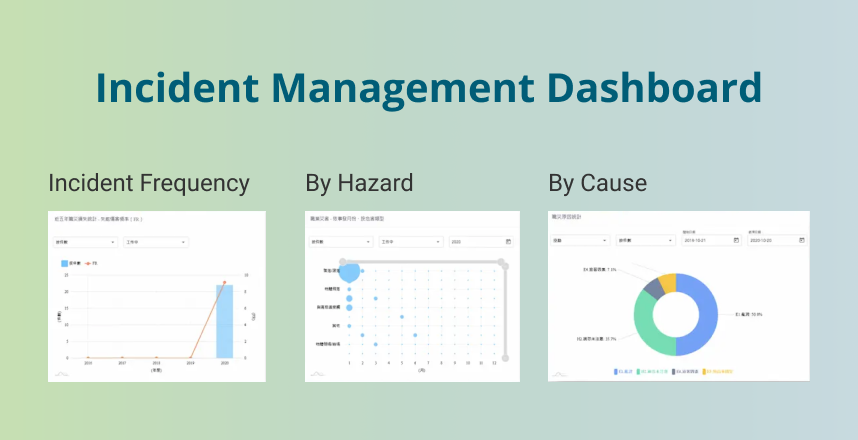 Clear Presentation of Performance and Continuous Improvement Capability
Dynamic system management provides the timeliest message delivery possible by streamlining the reporting, approval, problem discovery, and tracking processes. It encourages workers to actively participate in the EHS culture and be concerned about issues in their work.
With the Quantum Compliance system, EHS management becomes intuitive, precise, and better allows management to make decisions aligned with company operations.
Integration of Overseas Incident Management to Ensure Flight Safety and Service Quality
For ten consecutive years, EVA Air has been rated among the world's top 20 safest airlines. International flight routes continue to expand, with two additional routes to Milan and Munich in the second half of 2022. Integrating EVA Air's overseas stations into a single incident reporting system and simplifying the reporting channels when accidents occur are essential aspects of effective global flight management. In the past, there was no integration with the occupational safety and health information management system, making data integration difficult and potentially inaccurate.
EVA Air has introduced Quantum Compliance's occupational safety and health management system, and the benefits of grasping risk dynamics and reducing occupational accidents have become apparent. By relying on Quantum Compliance's assistance to complete the management and reporting of incidents at overseas stations, flight safety management is no longer limited to Taiwan; it now includes unified information channels for accident reports from international stations. The system distinguishes the location of the incidents based on the domain names of the incident reporters and quickly notifies relevant personnel, as well as the responsible managers at the respective stations. All cases are collected at EVA Air's headquarters in Taiwan, and a comprehensive management process is implemented to prevent recurring accidents. EVA Air's commitment to safety is the most critical factor in ensuring flight safety records and service quality.
Future Plans: Combining Artificial Intelligence to Pursue Higher Workplace Standards
Looking ahead, EVA Air will build on the successful introduction of the EHS management system to expand and extend its capabilities further. This includes using the database for big data analysis, utilizing artificial intelligence technologies, establishing models for incident analysis and warning mechanisms, and most importantly, maintaining a safe and friendly workplace environment. These innovative improvements and ideas for operational environment enhancements will be based on Quantum Compliance.
To find out more about how Quantum's software can streamline compliance, improve efficiency, and provide real-time data visibility, please be in touch with Steve Russie, Quantum USA's Director of Product Management, at steven.russie@usequantum.com.
We're committed to seeing you succeed.

Smart software for a safer world