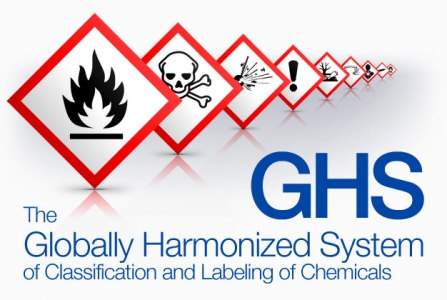 On June 1 of this year, all industrial end users in the United States of America will have to confirm that their container labeling standards are up to par with GHS (Globally Harmonized System) regulations. Workplace chemical labels will all need to meet those GHS requirements, as per final ruling from the United States' Occupational Health and Safety Administration (OSHA).
The GHS workplace chemical label change comes on the heels of last year's GHS requirements for safety data sheet (SDS) compliance. In that process, formerly non-standardized material safety data sheets (MSDSs) were converted to a version of the UN GHS standards that OSHA created, titled the Hazard Communication Standard (HCS or HazCom 2012). Although a time-consuming process, this change unified the safety data sheets in ways that made identifying hazards much easier for workers and facilitated the transfer of information and products between industrial users.
You may have already seen some of the effects of this change, but they mainly manifested as improvements in efficiency and hazard prevention and so are notable mostly for the problems they have prevented rather than for any major, noticeable events.  Achieving full compliance with the GHS OSHA standards doesn't stop at the SDS revision, and those same effects should persist when your company addresses the switch to GHS-standardized workplace chemical labels.
Implementing these new labels means more than just changing the labels themselves. Training workers to understand and read the new labels needs to be a key part of this process, in order to make sure that the benefits of clarified hazard classifications and remediation instructions actually come through in the real world instead of just on paper. Training deadlines may have already passed, but there is always a benefit to additional training and making sure that workers are fully comfortable with updated hazard communication programs.