Even though the deadline for officially training your workers in HCS hazard identification has passed, safety training should never stop. To help producers and employees understand potential hazards in their workplace, OSHA has launched a virtual Hazard Identification Training Tool.
The virtual walk-through is intended to educate users (especially small business owners and their employees) on the proper methodology for identifying hazards and raise awareness of the hazard-related resources OSHA has made available on their website. The organization is clear that the tool is not intended to educate workers fully on safety violations and the OSHA inspection process/penalty system, meaning that it ought not be used as the only tool to educate workers on hazards.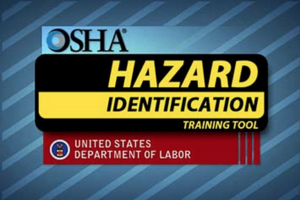 This tool requires that users install a specific web player (available on both Windows and Mac), so some advance preparation will be required before introducing it to your employees. The system is somewhat buggy; I had to attempt to download the Unity Web Player a few times before I was able to run it.
Once you've reached the tool itself, you'll see that it runs like a game. Users can play in either "Owner Mode" or "Worker Mode"; each setting has its own objectives and setup.
In owner mode, your objective is to maximize profit within 20 weeks. Players click through a virtual factory using "hazard identification tools" provided within the game, looking for hazards and then ranking them in order of priority. The time you spend uncovering these hazards is what determines your success in the game – you are allotted 40 actions, and at the end of a "week" the time/actions you have not spent on classifying hazards are converted into "profit." At the end of 20 weeks in the game (virtual time!), you will receive a summary of your profits and be able to gauge your own success.
Worker mode uses the same hazard classification tools as the owner mode, but with a different objective. Players in worker mode are judged by how many hazards they can identify using fewer than 10 actions. At the end of 10 actions, you are presented with a performance summary.
Full guidelines and recommendations on how to play the game as successfully as possible are available under the "Manuals and Resources" tab of the tool's main page. Over time, the tool should help hazard identification at all levels of your business, leading to a safer and more profitable workplace environment. For more information on how OSHA provides support for small businesses, read our blog Have You Used OSHA as an On-Site Consultant.