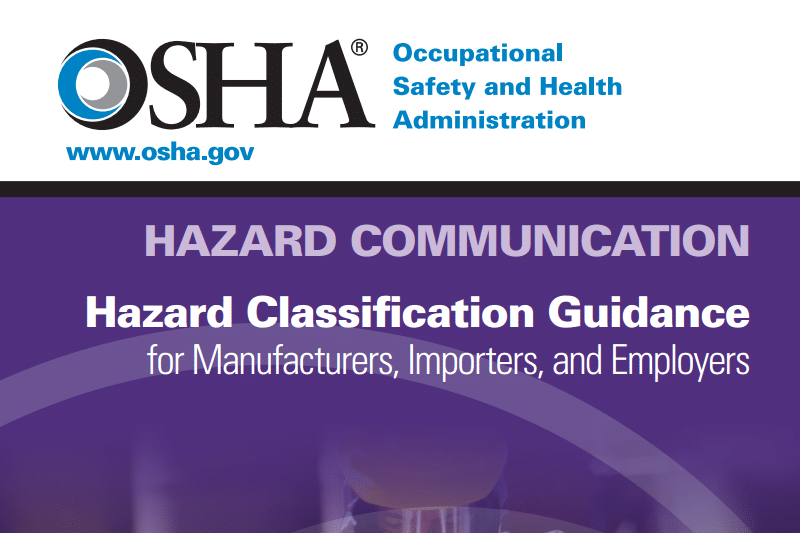 The Occupational Safety and Health Administration (OSHA) has created a Hazard Classification Guide for Manufacturers, Importers and Employees to help businesses and employers understand how to read and apply the chemical hazards established in the 2012 Hazard Communication Standard (HCS).
The guide does not create any new standards but instead aims to make interpreting the 2012 HazCom standard easier for manufacturers and businesses. To do so, it breaks down the necessary classification processes and explains the importance of classifying chemicals based on their inherent hazards, also providing an explanation of the regulatory standpoint of the 2012 HCS.
After explaining the classification process and its background, the guide details how to go about inventorying the data from the chemical identification. Completing a full hazard classification analysis requires information on a substance's chemical identity, physical and chemical properties, and health effects, and all of this data must be properly stored in order to make sure that it can be used to help others use it safely in the future.
This data all needs to become part of a "hazard profile," which contains various datasets under the following larger categories: company information, hazards identification, hazardous ingredients/identity information, description of controls and protective measures, physical/chemical characteristics, reactivity data, health hazard data, and other miscellaneous information.
After all data is collected and maintained, the rationales behind the collective set must also be recorded. The HCS no longer requires documentation that proves the methodology used to determine hazards, but OSHA still recommends that companies keep records of this process just in case they become necessary for future use. Doing so means keeping an accurate chemical inventory and easily accessible list of corresponding hazards while also keeping track of the specific data retrieved for each chemical and the criteria used to define that substance as hazardous.