Support Every Step of the Way
Superb software cannot reach its full potential without superb training. That is why Quantum prioritizes equipping your company with informative and engaging training sessions when you decide to use our No Stress SDS software. With our onboarding and installation process you can be up and running within the span of a day and start creating your GHS compliant SDS anytime, anywhere.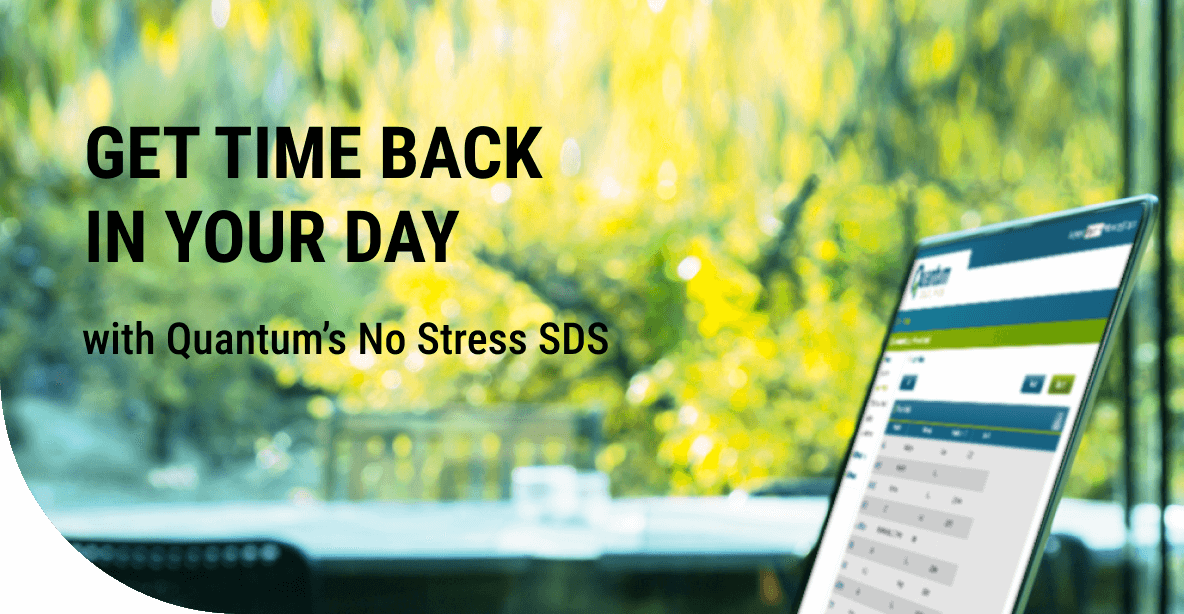 How Does It Work?
Once you sign up for a contract, you will be assigned a customer support contact and schedule your primary training session. A follow-up session will give you plenty of time to ask any follow up questions you may have. Afterwards, you can enjoy creating your GHS compliant SDS!
Plus, you'll be able to reach out to your customer support contact with any additional questions at anytime even after your training has been completed.
What Does Quantum's Training Cover?
Creating Product Identifier with its tradename
Linking to a Manufacturer or Supplier address and logo
Entering the mixture recipe
Physical properties
Transportation data if available or let the software determine the data
Run a utility create the SDS based on the ingredient and characteristic rules and algorithms
View SDS
FAQs
Who leads the training?
One of our multi-talented software specialists.
How many people can attend a training?
You can have a 1:1 session or invite your whole team. There is not set limit.
Are trainings in person or virtual?
All trainings are virtual.
How long do trainings last?
The primary training session lasts about 1 hour. The follow-up session can last 15-30 minutes; it all depends on how many questions you would like to ask.
Big Benefits
Unsurpassed Customer Support – We guarantee that a customer support contact will respond to your question via phone or email within 24 hours because at Quantum we're passionate about seeing our customers succeed.
Additional Training with Renewals – When you choose to renew your No Stress SDS, you'll also be eligible for more training whether as a refresher, to learn about our updates, or to train new team members your company may have hired.
More for Your Money – With Quantum, there are no hidden fees. Your company will receive quality training, superior support, and a reliable software that won't disappoint without breaking the bank.
Stop stressing. Start training today. Create GHS Compliant SDS with Quantum.
Connecting
To find out more about how Quantum's software can streamline compliance, improve efficiency, and provide real-time data visibility, please be in touch with Steve Russie, Quantum USA's Director of Product Management, at steven.russie@usequantum.com.
We're committed to seeing you succeed.

Smart software for a safer world